China Experience
9 Day Tour from Beijing to Shanghai
TOUR DETAILS
On this tour through China, you'll explore some of China's most famous sites and learn about its ancient and current culture. You'll start with three nights in Beijing, end with three nights in Shanghai, and spend two nights also in Xi'an.
A highlight of this China tour includes a visit to Xi'an, where you'll discover the Terracotta Warriors. These well-preserved, life-size figures of thousands of warriors, horses, and chariots were created in the 3rd century BC to accompany China's first emperor into the afterlife. They are nothing short of spectacular! Of course, no tour to China is complete without a visit to the Great Wall of China, the longest man-made structure in the world. Imagine how you'll feel when you're standing on this famous site!
Other highlights of this China tour include visits to the Shanghai Museum, with a collection of 140,000 relics, some dating back 6,000 years; Beijing's Forbidden City, the home of China's emperors from 1420 to 1912; and Beijing's Temple of Heaven, first constructed in 1420 and the place where the emperors of the Ming and Qing Dynasties worshipped the god of heaven and prayed for a good harvest.
You'll enjoy a Peking duck dinner in Beijing, a walking tour of the Muslim quarter in Xi'an, a visit to a Silk Museum in Shanghai, and more. For the value-minded traveler, this China tour has it all!
Itinerary
Day 1
Beijing, China
Welcome to Beijing, the capital of China! Hotel rooms are available for a mid-afternoon check-in.
Day 2
Beijing
Sightseeing today includes a stroll through TIAN'ANMEN SQUARE past Chairman Mao's Mausoleum and to the treasure-filled FORBIDDEN CITY, the largest and best-preserved collection of ancient buildings in China. During the Ming and Qing Dynasties, it was home to emperors as well as the center of politics. This evening your dinner features the local delicacy, PEKING DUCK. Breakfast Lunch Dinner
Day 3
Beijing
The GREAT WALL OF CHINA once stretched 4,000 miles across China's barren northern terrain from the Bohai Sea to the Gobi Desert. Head north to a village where the Great Wall is well preserved and walk along the wall to enjoy sweeping vistas of this mammoth fortress. Breakfast Lunch
Day 4
Beijing–XI'AN
Today, fly to Xi'an, the former ancient capital. The remainder of the day is at your leisure. Breakfast
Day 5
XI'AN
One of the largest and wealthiest cities in the world when China dominated the silk trade, Xi'an today is an archaeological treasure trove. Sightseeing begins with the enormous tomb of China's first emperor, Qin Shi Huangdi, accidentally discovered by local farmers in 1974. Marvel at the legion of TERRACOTTA WARRIORS that has been guarding the burial site for 2,000 years. Later, walk along the ancient CITY WALL of Xi'an and visit a CERAMIC and LACQUERWARE factory. Breakfast Lunch
Day 6
XI'AN–Shanghai
This morning, take a WALKING TOUR through the lively Muslim Quarter to explore the Islamic food markets before flying to Shanghai, China's largest city and center of trade. Breakfast
Day 7
Shanghai
Sightseeing today includes a stroll through the Old Town and the beautiful YU YUAN GARDENS, a place of peace and tranquility in this bustling city. Visit the SHANGHAI MUSEUM, where superb antiquities and fine arts dating back 6,000 years are on display. Walk along the famous Bund with its colonial architecture, and explore the restored Xintiandi area with its unique 1920s-style Shikumen buildings. You will also visit a SILK MUSEUM to learn about the silk-making process. This evening is at your leisure. Breakfast Lunch
Day 8
Shanghai
Explore Shanghai at leisure. You may opt to join an optional excursion to the historic water town of Wuzhen, renowned for its Old World charm and picturesque setting. Tonight, join your traveling companions for dinner at your hotel. Breakfast Dinner
Day 9
Shanghai
Your tour ends with breakfast this morning.
MAP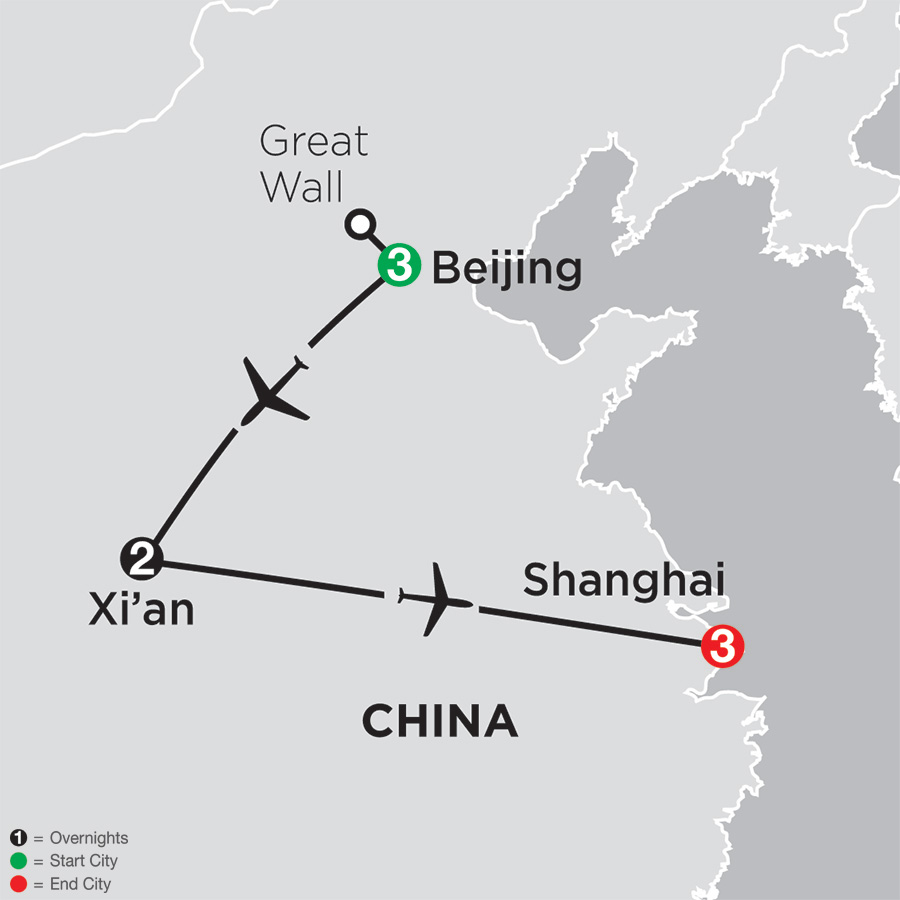 Vacation Highlights
Beijing - Sightseeing with a Local Guide including headsets; visit Tian'anmen Square, the Forbidden City, and the Great Wall; Peking Duck welcome dinner
XI'AN - Sightseeing with Local Guide including headsets; visit the Terracotta Warriors, city wall, and a lacquerware factory; walking tour through Muslim quarter
Shanghai - Sightseeing with a Local Guide including headsets; visit Yu Yuan Gardens, the Shanghai Museum, and a silk factory
INCLUSIONS
Accommodation and Sight- seeing as per the Itinerary
Transportation
Touring by private, first-class, air-conditioned motorcoach
Services of a Tour Director
Meals - 8 breakfasts, 4 lunches, 2 dinners
EXCLUSIONS
International and domestic air tickets
Terms & Conditions apply