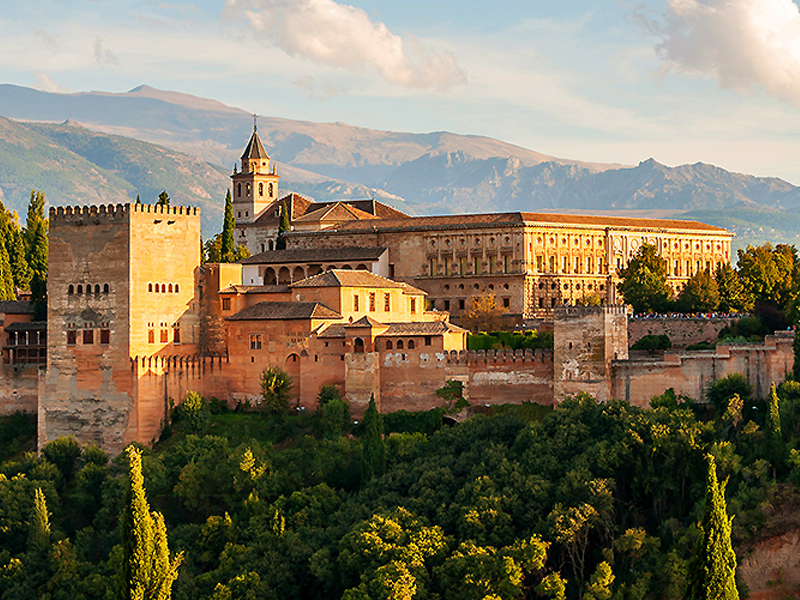 Spanish Escape Packages
Travel to Madrid, Cordoba, Seville, Granada, Valencia, Barcelona - 09 Days / 08 Nights Spanish Escape Tour Packages.
Itinerary
Day 1
Arrive In Madrid, Spain
Welcome to Madrid! At 6 pm, meet your Tour Director and traveling companions for a welcome dinner at your hotel.
Day 2
Madrid
The capital since 1561, Madrid today is a strikingly modern city, the showcase of a country resolutely turned towards the future. Your Local Guide takes you to the Puerta del Sol, Plaza de España with its monument to Cervantes, the Parliament, Cibeles Fountain, elegant Calle Alcala, and Paseo de Castellana. Then, the highlight: a visit to the palatial PRADO MUSEUM with its priceless art treasures. To make the most of your stay, an optional excursion to Toledo is available.
Day 3
Madrid – Cordoba – Seville
A scenic drive through the arid landscapes of Don Quixote's La Mancha brings you to Cordoba, for an orientation walk through the winding, stone-paved streets of the medieval city. Then, continue to Seville, the vibrant, festive capital of Andalusia.
Day 4
Seville
Meet your Local Guide, and hear about the city's role in Roman times, its conquest by the Moors in 712 AD, and its contribution to the discovery of the New World. Admire Maria Luisa Park, the Golden Tower on the Guadalquivir River, and the university that was once the tobacco factory of Carmen fame. Also, visit the magnificent CASA DE PILATOS, a mixture of Moorish and Roman architecture with a splendid collection of Roman sculptures. Then, stroll through the narrow lanes of the charming SANTA CRUZ QUARTER. An optional extended guided visit to the cathedral is also available. Tonight, for a truly Andalusian night out, reserve a seat at our optional Flamenco show.
Day 5
Seville – Granada
Sightseeing with a Local Guide features Granada's main attraction: the ALHAMBRA COMPLEX. The mighty yet graceful citadel was planned by 13th-century Moorish ruler Al Ahamar. A fantasy of "lace in stone" surrounded by arabesque gardens and fountains, it affords superb views of the Old Quarter and Sacromonte, a mountain occupied by Gypsy cave dwellers. Also, amble through the magnificent WATER GARDENS OF THE GENERALIFE, the royal summer residence.
Day 6
Granada – Valencia
Cross the Mora Pass to see troglodyte cave dwellings hollowed out of the soft tufa stone, near Purullena and Guadix, on your way to Valencia—a former royal capital. During your orientation drive, Valencia's Roman, Moorish, and Spanish history come alive. Admire the magnificent La Seo Cathedral and enjoy time on your own to discover the Old Town.
Day 7
Valencia - Barcelona
Follow the coast to Barcelona, Spain's second-largest city and host of the 1992 Olympic Games..
Day 8
Barcelona
Sightseeing with a Local Guide features the Columbus Monument, Plaza de Cataluna, and Paseo de Gràcia. Visit Gaudì's masterpiece, the spectacular SAGRADA FAMILIA BASILICA, followed by a panoramic view of the city and harbor from Montjuïc Hill. This afternoon, an optional excursion to Montserrat can be arranged, and this evening, enjoy a flavorful [LF] farewell dinner with Sangria at a local restaurant to bid adios to your traveling companions.
Day 9
Barcelona
Your vacation ends with breakfast this morning.
Overview
Say, "Hola," to Spain on this escape to the land of Flamenco music and dance, inviting beaches, and enticing cuisine. Life is a fiesta here, and you can experience it without the crowds—and even better—without the high-season prices. From its world-class art, historical sights, and magnificent cathedrals to its sunny climate and scrumptious cuisine, this is the best way to see the highlights of Spain in a short time! On this Spain tour, you'll stay overnight in Madrid, Seville, Granada, Valencia, and Barcelona. Guided sightseeing and walking tours present you with Spain's must-see attractions.
History buffs will be delighted by a visit to Seville's magnificent Casa de Pilatos with its splendid collection of Roman sculptures. In Granada, visit the Alhambra complex and the Water Gardens of the Generalife, the oldest decorative garden in the Western world. An orientation drive in Valencia highlights Roman, Moorish, and Spanish history. If you're interested in art and architecture, you'll be thrilled by a visit to Madrid's Prado Museum, which houses 8,000 pieces of Western paintings. In Barcelona, visit the amazing Sagrada Familia Basilica, the masterpiece of architect Gaudì. But that's not all…you'll also enjoy a special farewell dinner at a local restaurant in Barcelona. These are just a few of the experiences and sights included on this tour. From the historical sights and beautiful art and architecture to the delectable treats and special experiences, this Spanish Escape is sure to leave you with plenty of memories to share with loved ones back home. So pack your camera and get ready for a marvelous guided Spain vacation at a price that screams, "Let's go!"
Highlights
Madrid : Welcome dinner; guided sightseeing, visit the Prado Museum.
Cordoba : Orientation.
Sevillie : Guided sightseeing, visit the Casa de Pilatos, and walk through the Santa Cruz quarter.
Granada : Guided walking tour, visit the Alhambra complex and the Water Gardens of the Generalife.
Valencia : Orientation drive.
Barcelona : Guided sightseeing, visit the Sagrada Familia Basilica; panoramic view from Montjuïc Hill; a delicious [LF] farewell dinner with Sangria at a local restaurant.
Notes :
For operational reasons, slight schedule changes for the Barcelona program cannot be excluded.
Hotels listed may occasionaly be substituted with alternate hotels of equivalent standard.
Day 5 Alhambra complex Entrance to Nasrid Palace is not guaranteed
Transportation :
Motorcoach. Free Wi-Fi available on your motorcoach and in most hotel lobbies.
Spanish Escape Destinations